The Battles – A Book 
How to achieve an extraordinary life: A Beginner's Guide
What if a personal development book could be entertaining and easy to read?
"Success is something you attract by the person you become." —Jim Rohn
Studying books is one of the most effective means for personal growth. However, who still reads those savvy books today, in the era of Game of Thrones, multimedia and microblogging?
"The Battles" by Christiane Agricola is a mixture of motivational science fiction, fantasy, and self-help workbook. A success recipe in six lessons inside an inspirational story.
Do you want to take the control of your future and get what you want in life?
Discover "The Battles: Master The Secret of Success and Positive Thinking".
Also on Youtube: www.youtube.com/c/ThebattlesXyz
Grab the proven secrets of success—by Wallace D. Wattles
The six lessons course in "The Battles" teaches you how to:
Declutter your mind, boost your brain function and focus on your goals,
Prepare your body for success and improve your overall health and fitness,
Define your life purpose,
Dream big, believe in yourself and your goals,

Find your strongest faculties,

Start with what you already know and

improve your skills and strengths

, until perfection,

Prepare your very own big project and make it successful,
Stop being a puppet and take control of your life,
Make this planet a better place, by taking the right actions for yourself.
Be the next hero and unleash your unknown potential!
The Story inside "The Battles"
Set in a dystopian future where humanity has fallen from its highest potential, Magnus Battles decides to save humankind from the approaching apocalypse. But first, he must deal with the Bad Forces' mole, whose task is to undermine his valuable plans.
Will he succeed?
This entertaining story reveals the evergreen wisdom of Wallace D. Wattles, who became famous for his book "The Science of Getting Rich", and Napoleon Hill—author of the worldwide bestseller "Think and Grow Rich".
Discover The Battles by Christiane Agricola on Amazon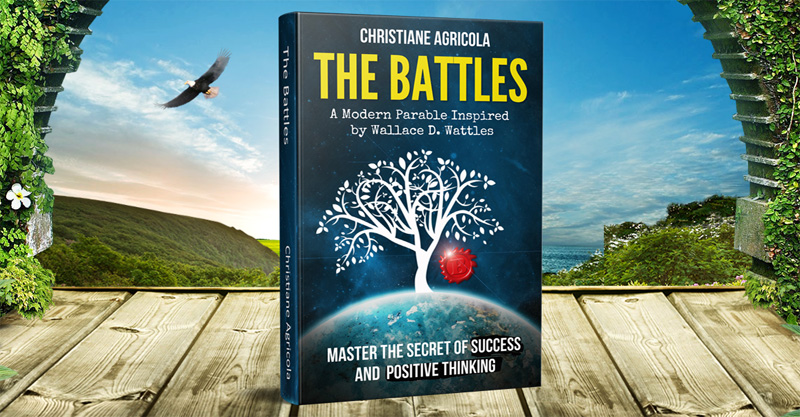 ---
Highly recommended! —Readers' Favorite  ==> read the review
Highly recommended for those searching for inspiration on changing their own lives for the better and saving our planet.
—HUGEOrange ==> read the review